Tilapia Bake - A Great Recipe for Fish
Great recipe for fish for those enjoying a low-carb or keto diet.
How about a recipe to try! If you enjoy fish, you'll love this! This is my favorite fish dinner that I cook. It's so simple, very filling, and tastes great!
Tilapia Bake
Makes 4 servings
3 medium or 4 small tilapia fillets (approximately 1 pound total; 450 g)
1 teaspoon (5 ml) kosher salt
1 teaspoon (5 ml) black pepper
2 tablespoons plus 1 teaspoon (35 g) butter
1 medium leek, white part thinly sliced (¾ cup; 175 ml) (can also use green onion)
10 ounces (284 g) baby spinach
¼ cup (60 ml) heavy cream
½ teaspoon (2 ml) dried parsley
½ teaspoon (2 ml) dried oregano
¼ teaspoon (1 mi) red pepper flakes
1 cup (250 ml) crumbled feta cheese
Preheat the oven to 425°F (220°C). Season the tilapia fillets with 2 teaspoon (2 mi) each of the salt and pepper.
In a large skillet, melt 2 tablespoons (30 ml) of the butter over medium-high heat. Add the leeks and sauté a few minutes, until soft but not brown. Add the spinach a handful at a time; the spinach will reduce in volume by a lot. Add the cream and the parsley, oregano, and red pepper flakes, as well as the remaining ½ teaspoon (2 ml) each salt and pepper. Reduce the heat to medium low and simmer, stirring frequently, until the mixture thickens a bit.
Use the remaining 1 teaspoon (5 g) butter to lightly grease a small glass baking dish. Transfer three-fourths of the spinach mixture to the baking dish and arrange the fish in a single layer on top. Layer the rest of the spinach on top. Sprinkle the Feta cheese evenly over the top and bake for 20 to 25 minutes, or until the fish is cooked through.
CALORIES: 318
FAT: 20 G
CARBOHYDRATE: 5 G
PROTEIN: 27 G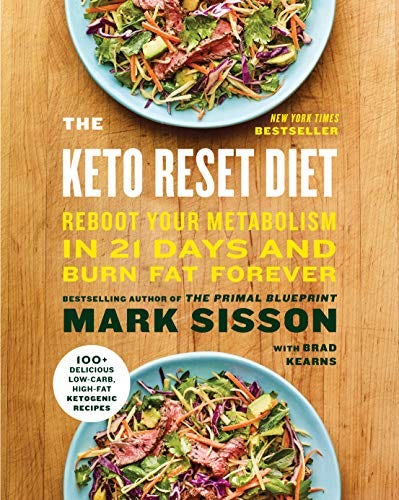 You can find this recipe and more in the book The Keto Reset Diet by Mark Sisson